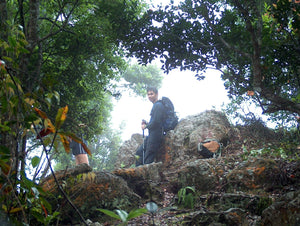 Gunung Bunga Buah - Hiking Up a Cool Mountain
Gunung Bunga Buah - Hiking Up a Cool Mountain (Originally posted at multiply.com in Aug 21, '05 10:41 AM)
Gunung Bunga Buah(GBB, 1430 m asl.) is one of the higher mountains in Selangor. It is a cool mountain with beautiful rock garden, bonsai trees, mossy forests and well preserved spongy trail at the upper part of the mountain. 
Since the trail to the mountain was closed for public access by a "private entity", a few hikers from Gunung Online had recently opened up a new trail without trespassing the private security gate. I get the information to the trailhead from AhMoi of gunung online (Rita), who is one of the persons who pioneered the trek. Since Flagstaff (Sani) suggested to trek up to the mountain over the weekends and AhMoi would be going up also, I roped in Hooi Ling and Jze Tiong to "try" the new trail with me. 

The beginning part of the trail, which start from behind Gohtong Jaya shop houses is steep, and technically quite challenging as it was just newly cleared and done in a hurry by Chan and AhMoi.  It was not well trodden and no "safety rope" available at certain steep and slippery sections. Anyway it was quite fun scrambling up and sliding down on all fours.

It was a nice hike as the air was cooling and fresh, surrounded by jungle with its orchestra, many birds, wild flowers and butterflies. We met up with AhMoi and FS at the rock garden. They had started off an hour earlier than us in the morning. Apparently FS slept in his car the night before.

We reached the summit of GBB at 12:15 pm.  And minutes later, it started to rain; we took shelter below the beirut and waited for the rain to stop. Luckily the rain stopped shortly after 1 PM as the sky chief was kind enough to  let us go down the mountain without soaking wet.

It took us 3 hours to climb down from the summit to Gohtong Jaya and the last 20 minutes of sliding down the slope, at its present state, has actually enhanced the "technicality" of climbing GBB.

Trekking is a good way to meet new friends, and today i met 2 new friends: AhMoi and Flagstaff.
---