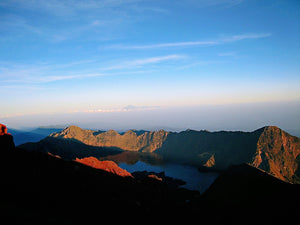 Mt Rinjani via Timbanuh Route
Entrance Point: Jati Village, Timbanuh
Exit Point: Sembalun Lawang
Max Altitude: 3726m, Proper peak of Gunung Rinjani
Min. Summit Temperature - 0-8 Deg Celsius at night
Grade: This route via Timbanuh is considered among the hardest and extreme.
Equipments: Fixed ropes are required to cross some difficult and steep passes. Nonetheless, it worth all the effort to transverse this route to peak of Mt Rinjani
 Team Members: Tashi, Dekey, Yu Pin & Wife, Tay & Au.
Lombok team: Ming & RMET members
Porters: Suria, Ramadhan, Suma & Ah Heng's Son
For Guide and Travel to Lombok, contact
Itinerary:
Day 0 - Overnight at Timbanuh Cottage for Trip preparation
Day 1 (9:30 am - 7:00 pm): Timbanuh village (800m) - Pos I (900m, 1 hr) - Pos II(1800m, 4 hrs), Pos III(2300m asl., 3 hrs)
Day 2 (9:00 am - 8:30 pm): Pos III - Pelawangan Timbanuh (2700m, 2 hrs) - Basecamp Danau Gunung Baru (2000m, 6hrs)
Day 3 (9:00 am - 8:30 pm) - Basecamp Danao Gunung Baru - Paddle across Danau Segara Anak (4 hrs) - Basecamp Danau - Pelawangan Sembalun (2700m, 4 hrs)
Day 4 (3:30 am - 6:30 pm) - Pelawangan Sembalun - Summit (3726m, 4 hrs) - Sembalun Lawang (1000m, 6 hrs)
Day 5: Mataram - Denpasar
Clinging to a steep vertical wall, carefully maneuvering along cracks of the rock-face cliff, dekey was guided by Suria, our guide, descending down a stretch of steep path. We were on our second day of trekking to Mt Rinjani via southern route. It was hair raising experience. Fom Pelawangan or the rim, it wasn't an easy walk down to the lake, as we initially thought. Estimated to be a mere 3 hours of 'leisure walk', we ended up taking 6 hours to descend down the steep cliff, a 700m drop to the crater floor, to the lake shore of danao segara anak from top of the crater rim. The lakeside campground would be the spot for us to crash for the night.
On the first day. When the sun had just set behind the mountain; the rolling crater rim of the huge caldera was casting a dark shadow across the wide expanse of alpine savannah. Beneath dark sky of a clear night, we paused to rest on carpeted ground of the fairy meadow (Edelweiss field), 2300m ASL. , after a day of exhaustive climb. At this altitude, the cold quickly set in after dark. Cold wind blew across sea of fairy meadows while we were waiting for Ming and other team members who were staggering along the trail behind us. With a heavy backpack still strapped behind my back, I tighten my warm jacket, pulling its zip up to my neck while sank my both hands deeply inside the pockets to warm up my fingers numbed by the cold. Looking up, above us, far from any profusion of city light, billions of stars filled the night sky, we saw our galaxy. It was truly amazing.

We had started our climb to Mt Rinjani via Timbanuh, the south gate, one of the most extreme routes to Rinjani. This route only used by local anglers from Timbanuh village to go fishing at the Danau or hunting in the forest. The trail is an expedition route. From Timbanuh gate, we climbed to Pos I, a hunting post at the side of a river which resembled a small dam. Then from Pos I, we trudged along tropical forest to Pos II, a hut located next to a crystal river. We had lunch at Pos II, and then continued climbing amidst mossy forest to Pos III. The trail steepened after Pos II. It was a hard 3 hours climb to Pos III, a post perched at the edge of alpine grassland. Upon reaching Pos III, we were rewarded with splendid view of soaring South Peak of Mt Rinjani. We could see the setting sun painted the wall of the Mt Rinjani South Peak and surrounding meadows with golden colour. We initially planned to reach Pos 4, which was right below the South Rim, but the temperature dived after the sun set. We were hungry and exhausted so Ming advised to put up the night in the middle of grassland between Pos III and Pos IV. Thankfully, there was a pool of water source nearby where we could use for cooking and drinking. We had dinner served inside the tents by our porters. We had a great night under layers of clothes and sleeping bag and beneath the stars in a fairyland.

Dawn broke in a cold morning, we waited until the sun warmed our campsite. After breakfast, we continued to trek across the savannah fields where the Edelweiss (mountain flowers) were in full bloom. It took us 2 hours of hike to Pelawangan Timbanuh or Pos 4. Cresting the crater rim, there was breath-taking view of inner wall of caldera and Danau Segara Anak on the crater floor. At the centre of caldera is the cone of Gunung Barujari. It looks like Mt Doom in the heart of the black land of Mordor. After a short break, we started to descend from the rim to the lake. The campround is at the lake shore. It was almost a vertical drop of 700m of cliff wall of inner caldera. While there are plenty of cracks on the wall to place your fingers and foots, it still posed significant challenge to some of us who had little knowledge of rock climbing. At certain parts the trail, Ming had to fix a rope to aid in our descent. Many times, we had to free-hand climbing down and use ropes to lift down our backpacks one by one. Dekey, walking in front of me, was manoeuvring down a steep rocky path. Then we heard Ah Heng shouted, looking up over our heads, a big bag contain of vegetables, fruits, cooking oils, which was carried by Ah Heng, dropped off and crashing down the slope, it rolled over, just a feet in front of Dekey, and then tumbling down the cliff into the valley below. Then, gone our all our supply of fruits and vegetables. We had to rely on Maggie and rice as our core meals for our next 2 days of expedition. As we were manoeuvring down the cliff, negotiating difficult pass, the sun slowly rode down the sky, slipping behind western rim. With weakening light, our descent become more difficult and dangerous. At about 8pm, all of us arrived safely at the floor of the crater, it took us another 30 minutes of 'walk' to the lake shores. We put up tents at lake side. The base-camp was right below Gunung Barujari. We had dinner and slept on a cold night at the beautiful lake side campground

The next morning, the sun greeted us again. After breakfast, we went to a hot spring for volcanic spa at the foot of Gunung Barujari. There were different level of 'heated' pool, cold, warm, hot and extreme hot. We did facial cleansing with volcanic soil. All were held in open air natural environment. It was really rejuvenating. Ming and porters were busy tying rubber tubes with woods, building our special rubber raft in order to sail across the lake to the opposite shore, 2KM away, which is below Pelawangan Sembalun. The raft was actually quite functioning at the beginning, however, after 1 round of ferrying our backpacks to the opposite shore, during the second round, one of the tyre tube punctured, it was like we were losing the 'front wheel', so our sailing become very slow and difficult. The porters and some of us had resorted to trek on the difficult terrain along the edge of the lake. Yu Pin and I decided to jump into the lake, to help propelling the boat. But our endeavour didn't last very long. The water in the danau was 200m deep, it is a alpine lake, hence it was really cold. We were left shivering in the water after only 30 minutes of swimming and pushing the raft. So we had to climb up aboard againand rely solely on hard paddling. The wind blew against us, added much adversity to our advance. To aggravate our hardship, one of our wooden paddle was broken halfway, so with single 'engine', we had to alternative paddle from left to right. Nonetheless, after almost a day of voyage, we arrived safely at base-camp Danau but it was already 4pm, and sun seemed to set earlier in Lombok.

After having our late lunch, aound 5 pm, we started to climb the inner caldera using the normal route to Pelawangan Sembalun. The trail very much like the mid hill Nepal. Accompanied our trekking by a crescent moon hanged atop the mountain, we arrived at Pelawangan Sembalun around 8pm. But Ming and some of us, whose started late and torchlight were mal-functioned after dark, had to sleep on the trail as they were unable to climb in total darkness.
Anyway, you wouldn't be able to sleep well at Pelawangan, because as early as 1pm, there were already people waking up, pushing for a dawn hike to the summit of Rinjani. We got ready and began our summit assault around 3:30 pm. The beginning of our climb was tough, as the ground was a trail of volcanic rocks and ashes, but once we gained to the final ridge, it was easier in the beginning, yet was most mentally torturing at the last stretch about 200m before the summit.

This last stretch was a powder of rocks and sand, it was something like 2 steps and 1 step slipping back down. It took us almost an hour to scramble up the final stretch of the ridge to the peak. It was really a mentally and physically challenging climb for Tay who had injured his ankle (minor crack) just a week ago. He was hesitated to join the expedition immediately after him injury, but determined and put up enough effort to join and even climb up and reach the peak with us. All of us arrived at the peak around 8 am. when the sun was already high up and bearing down on our backs. It was really hot once the sun rose higher. At this altitude, the sun was really powerful and scorching, despite the high altitude. We hurried to get down from peak and returned back to Pelawangan Sembalun. After meal, we continued to climb down to Sembalun Lawang. It took 6 hours of descent along a hot and exposed trail. The trail is the normal tourist's route. It was a steep tumble from 2700 m at Pelawangan to 1800 m at Pos III. After Pos III, it was a gentle walk amidst savannah (read hot) to Sembalun Lawang.
---